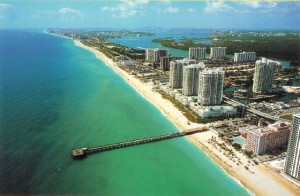 Located on a barrier island in the northeast corner of Miami-Dade County and known as "Florida's Riviera", Sunny Isles Beach is nestled midway between downtown Miami and Fort Lauderdale, bounded by the Atlantic Ocean on the east and the Intracoastal Waterway on the west. With its collection of unique motels, the area became a charming vacation destination in the 1950's and 60's as Motel Row. Since 1997, the city has transformed into a sophisticated mix of luxury high rises, four- and five-star hotels, affordable accommodations and quiet single-family communities. But Sunny Isles Beach's most spectacular asset remains the beach, which runs the entire length of the city.
Almost one million vacationers visit Sunny Isles Beach each year to enjoy this beach and outdoor activities such as water sports, boating, fishing and tennis. The landmark Newport Fishing Pier, once known as the Sunny Isles Fishing Pier, recently underwent a major renovation; it remains a favorite spot for visitors and locals alike, as do Samson Oceanfront Park with its children's play area; the three-acre Town Center Park, which was once a shopping mall and now has a playground, fitness trail and gazebo along with a state-protected wetland; Golden Shores Community Park, where you'll playground equipment, picnic tables and swings; Pelican Community Park, Pier Park; which is open 24 hours and has a lifeguard station along with a restaurant (the pier is closed for fishing until renovations are finished); and Bella Vista Bay Park and Oceania Park, both peaceful respites perfect for strolling or lounging on benches enjoying the scenery. A four-acre multi-use park, Heritage Park, is currently in the planning stages. And while it's a serene place to be, there's plenty to do. Spa lovers should check out the award-winning ESPA in the Acqualina Resort & Spa (17875 Collins Ave., 305.918.800; acqualinaresort.com0, which is celebrating its fifth anniversary with a package available through December 15, 2001 that includes spa credits for two, champagne, breakfast, and more when you book a suite for two nights. The resort houses fine restaurants such as Il Mulino New York, just one of the extraordinary dining options around the city, where a spate of fantastic new eateries has popped up over the past few years, joining the ranks of tried-and-true favorites.
Visitors to the area will find The Sunny Isles Beach Visitor Center, located on the first floor of the Sunny Isles Beach Government Center (18070 Collins Ave., 305.792.1952) helpful as it is a one-stop resource with information on where to eat, shop, and enjoy recreation such as water sports, with T-shirts, beach towels and other souvenirs for sale. It's also the place where you can pick up a Go Miami Card, an all-access attraction pass that extends cost savings and other perks to those who carry them.