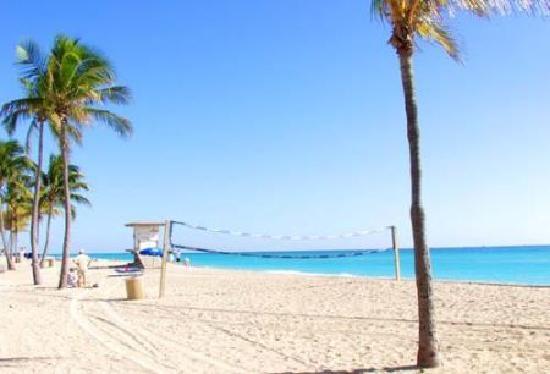 In Downtown Hollywood, home to dozens of shops, restaurants, live music venues and galleries, the Artwalk from 7pm to 10pm on the third Saturday of every month is a perfect way to take in regional, national and international art displayed among and by local businesses. Schedules are posted online at the visithollywoodfl.org website. And on the subject of art, ArtsPark at Young Circle (Hollywood Blvd. at US1; 954-921-3404; hollywoodfl.org/artspark) is a 10-acre interactive park in Downtown Hollywood with a kids' play area, promenade, and scheduled arts and cultural events and activities.
But if you just want to relax and take in the overall beauty of Hollywood and its surrounds, check out the various methods from a 2 1/2 hour sightseeing Tropical Adventure Cruise onboard the 115-foot vessel Tropical Adventure (it's the only one that actually goes out to the ocean; visit TropicalAdventureCruise.com for details0 to the unique experience of the Hollywood Trails: Eco-Adventure Kewl Bicycle Tours, 5- to 30- mile rides along bike paths and the beach offered six days a week (visit hollywoodtrails.org or call 877-288-9933).
While it doesn't get the national press that South Beach does, Hollywood has long been a preferred destination for travelers to Florida-since the 1920s, in fact. Today, the old glamour of Hollywood Boulevard, lined with skyward-stretching palm trees and fantastic old residences, along with the addition of new attractions such as Arts Park, keep it high up in the ranks of exciting places to spend time in Florida.
Located in Southeastern Broward County, Hollywood includes seven miles of Atlantic Ocean Beach, interrupted briefly by a portion dedicated to Dania Beach. The beach, with its ever-improving Hollywood Beach Broadwalk-which Travel+Leisure magazine named one of America's Best Beach Boardwalks-is a main attraction for vacationers and locals alike. Particularly on weekends, it comes alive bright and early in the morning with a mix of dedicated locals who love to run the coast, power-walk, bicycle, walk their dogs and Segway up and down past cafes, souvenir shops, condos, hotels and inns. (On Sunday morning, Josh's Organic Market is a not-to-be-missed experience for lovers of fresh, organic fruits, vegetables and herbs.) The Hollywood Beach Amphitheatre offers free outdoor concerts, and three oceanfront parks house playgrounds, paddleball courts, ping-pong tables, and interactive water fountain and picnic pavilions.