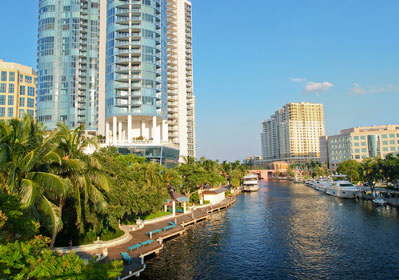 One of the World's Premier Beachfronts
Fort Lauderdale Beach Conditions Hotline: 954-828-4597
The City of Fort Lauderdale boasts more than seven miles of sparkling beaches that offer residents and visitors premier opportunities for recreation, relaxation and enjoyment. The City's award-winning wavewall and signature beachfront promenade highlight Fort Lauderdale's world famous coastline, which is punctuated by an array of shops, restaurants, sidewalk cafes and entertainment venues. Beachgoers can participate in a wide range of activities from boating, wind surfing, jet skiing and volleyball to snorkeling, scuba diving, deep-sea fishing and rollerblading. Or, if relaxation is what you desire, simply sit back, unwind and enjoy breathtaking views of the Atlantic Ocean.
Fort Lauderdale Ocean Rescue supervises the two miles of continuous public beach from the South Beach Picnic Area up to and including the beach in front of Hugh Taylor Birch State Park. In the guarded areas of the beach, there are 15 year-round, permanently staffed lifeguard towers spaced between 200 and 400 yards apart. There are also as many as 10 temporary-auxillary stands that are used during the peak season, special events and holidays.