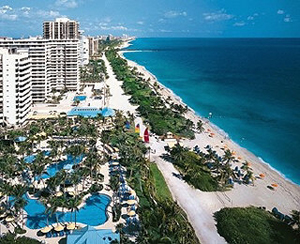 Bal Harbour has been in existence for 65 years now, with its initial incarnation the master-planned community of Bal Harbour Village. Since then, elected officials and community activists have taken great care to not only maintain a lofty standard of living and aesthetics, but to elevate that standard as well. (Interesting fact: Originally, the name chose for this enclave was Bay Barbour, but that was deemed inappropriate by city planners because the city was located on the beach. So they invented a name that worked based on the fact that it ran from the bay to the Altantic, taking the "b" from the word "bay", and the "a" and the "l" from the word "Atlantic"; that's where the "Bal" in Bal Harbour came from.
Within the less than one square mile that makes up Bal Harbour are exclusive residential high-rises and hotels, single-family homes, a beautiful beach and the tony Bal Harbour Shops, a shopping and dining destination for discerning travelers from all over the world as well as the locals who love fashion The world's most revered designers choose to house their boutiques in the Bal Harbour Shops, from Gucci to Yves St. Laurent to Prada, Roberto Cavalli, and more.
For decades, the Shops were the reason to spend time in Bal Harbour but a recent additional attraction is One Bal Harbour Resort and Spa, the first hotel built within Bal Harbour in 50 years. Also new, as of 2007 is the St. Regis Resort & Residences; it stands where the historic Sheraton Bal Harbour, built in 1956 as the Americana Bal Harbour, once did. Like all destinations in and around this village, it's a sight and experience to behold.