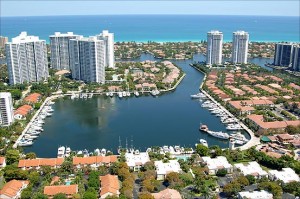 Known as The City of Excellence and named for the Spanish word for "adventure," Aventura is a bustling hub of a city where families in communities of single-family residences live side by side with snowbirds and young professionals in high-rise condominiums. After initially being developed in the late 70s and early 80s as a high-rise residential area, the city grew exponentially; some trace the start of its explosive growth to the enormously successful Aventura Mall, the largest conventional shopping mall in the state of Florida. The mall has attracted so many upscale retailers and restaurants in recent years – Louis Vuitton is moving its flagship store from the tony Bal Harbour Shops into Aventura Mall this summer – that the surrounding area has benefited enormously. A number of popular shopping plazas are located nearby, as well, such as the legendary Lochmann's Plaza, dotted with original boutiques, bookstores, cafes, bagel shops and delis. And to accommodate the continuing growth of the area, there are more home decor stores – both of the independently owned and chain variety – in Aventura than ever before, offering services that cater to homeowners who are renovating existing homes as well as those relocating to the area from around the country and other parts of the world. The city has come an incredibly long way from the former swampland it once was when the Pittsburgh, Pennsylvania-based Oxford Development Company came to town and began to shape its future.
Recreational options in Aventura are also more plentiful than ever. In fact, last year the long-anticipated Aventura Arts & Cultural Center opened in the heart of Aventura (3385 NE 188 St., Aventura aventuracenter.org), to much excitement. The high-tech, waterfront facility, managed by the Broward Center for the Performing Arts, makes available to Aventurists a range of cultural events and programs never previously offered in the city – a testament to the growth and evolution of the area. From poetry readings to ballet productions to plays and live performances from legendary headliners such as Patti LuPone and Rod Stewart, the center adds an entirely new dimension to life here. News of what's happening and schedules of performances, along with ticket and pricing information, is available on the Center's website.
With families making up a major part of the mix here, parks also abound; among the most popular, the two-acre Veterans Park (18375 NE 31st Ave.) has a covered playground, soccer net and the all-important restrooms; Waterways Park (3301 NE 213th St) comprises seven acres on which there is a basketball court, fitness stations, and an outdoor shelter; and Waterways Dog Park (3401 NE 213th St.) is a social networking opportunity for canines, who can romp in doggie water fountains or play on the large covered patio. More detailed information on local parks in Aventura can be found on the City's website at cityofaventura.com or by calling 305.466.8008.